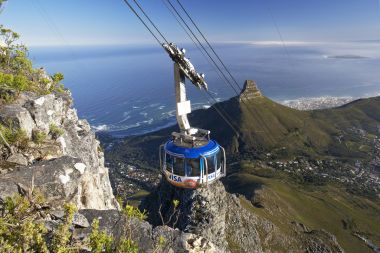 Table Mountain is one of the official New7Wonders of Nature, following a lengthy international public voting process. You can get to the top of Cape Town's most famous icon in just five minutes by taking a cable car up, or spend the better part of your day hiking it.
Table Mountain Cableway, established in 1929, takes visitors to the top in one of two cable cars, each with rotating floors and huge windows to ensure your views while travelling are almost as spectacular as those on the summit. Cable cars depart every 10 to 15 minutes.
From the top of Table Mountain, there are magnificent views of the Cape Town city centre, surrounding suburbs and the Atlantic Ocean. Landmarks in view include Cape Town Stadium, Robben Island and Camps Bay beach.
There are a number of short walks on the top, as well as longer ones that can take you down to Kirstenbosch National Botanical Garden, or even further along, to the Silvermine Nature Reserve.
Table Mountain is known for its rich biodiversity and is home to over 1 500 species of plants (more than the number found throughout the entire British Isles), most of them fynbos, which forms one of the world's six plant kingdoms all on its own. At its highest point, Table Mountain reaches 1 085m (3 560ft) and affords views all the way to Robben Island and beyond.
When you've worked up an appetite, Table Mountain Café is a self-service restaurant where you can enjoy food and refreshments. The Café uses compostable plates and containers for food instead of regular, washable plates, helping conserve about 20 000 litres of water per month. Measures like these are part of Table Mountain Aerial Cableway's mission to reduce their ecological footprint.
Top Link SA Travel and Consulting
Email : info@toplink.co.za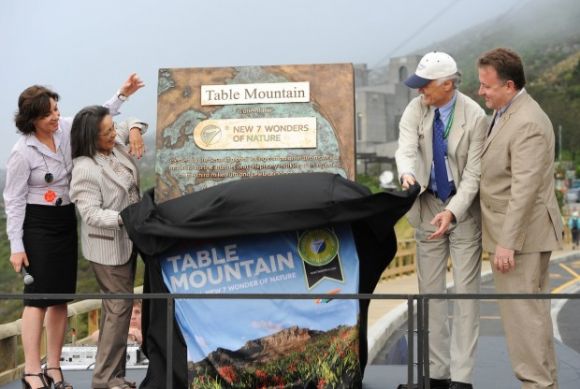 The lower cable station is located at the western end of Table Mountain. A CitySightseeing bus, taxi (at about R60 one way) or Rikki cab (around R20 per person) from the CBD will take you to the departure point, or if you're using your own transport, take Buitengracht Street towards the mountain. After crossing Camp Street, Buitengracht becomes Kloof Nek Road. Follow Kloof Nek Road to a traffic circle, then turn left at Tafelberg Road and follow the signs to the Cableway.
The Cableway operates only when weather permits and does not take bookings. Tickets can be purchased on the day of your visit at the lower station ticket office or online (a better option, particularly on busy days, as the queue for those with online tickets is shorter). It is freely accessible to people with disabilities, and there are dedicated parking spots at the lower cable station for those with disabilities. Visit the Cableway's website to check the weather conditions, ensure the cable cars are running, and purchase tickets online.
If you would prefer to hike up the mountain, contact the Cape Town Tourism Visitor Information Centre at the lower cable station to book a registered guide or tour operator. You can book any tour, accommodation and transport from this centre, and make reservations for any one of South Africa's national parks.
There are also other ways to experience the mountain up close, including doing the Hoerikwaggo Trail, or walking up the mountain from Silvermine Nature Reserve or Kirstenbosch National Botanical Garden. Depending on where you walk from, you may not have to pay a cent to enjoy the mountain (this includes walking up the front of the mountain via Platteklip Gorge).

Attractions - Cape Town - Table Mountain








Blyde River Canyon Naure Reserve