Top Link SA Travel and Consulting
Email : info@toplink.co.za


10 Day Plains Game and Kruger Package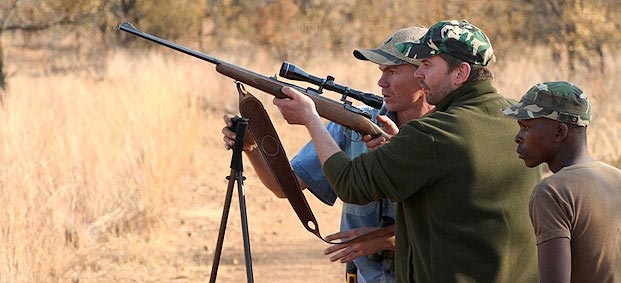 The 10 Day Plains Game and Kruger Package offers clients the opportunity of combining an African Hunting Safari with a photographic safari to the world renowned Kruger National Park. The package includes four of the most sought after plains game trophies in South Africa Africa and is a very affordable way of experiencing a quality African Hunt. Our hunting packages contain no hidden costs. The only safari related cost which it does not include is the dipping, packing and shipping of trophies and taxidermy work.
Clients are met upon arrival at O.R. Tambo International Airport in Johannesburg and are returned there upon completion of the safari. Accommodation is in first rate hunting camps and lodges where all modern amenities are available. Food is prepared to the highest standard and a large variety of alcoholic and non alcoholic beverages are available and included. The success rate on the trophies is close to 100%. If however you do not take one of the trophies which is included in the package, 90% of the list price of the trophy is deducted from your hunting safari price. A deposit of 20% is payable upon booking your hunting package. The balance is payable upon completion of the safari.
If your flight arrives after 1pm we suggest you overnight at the Lombardy Hotel on the day of arrival and start the safari on the following day. Cost of $200 per person includes accommodation meals and a transfer to the hotel from O.R. Tambo International Airport in Johannesburg. If you do not wish to bring your own rifles, you are welcome to hunt with one of the rifles of your professional hunter. The only cost involved in this is the replacement cost of ammunition ($100).


An unforgettable experience in Africa
Trophy fees for animals included
All accommodation and catering
All land transportation for the duration
Services of a Professional Hunter
Services of camp staff
Services of trackers and skinners
Laundry Service
Field Preparation of Trophies
Liquor in moderation
All applicable taxes
All applicable licence and permit fees

Air transportation to and from South Africa
Taxidermy Work (See Taxidermy)
Shipping of Trophies (See Taxidermy)
Dipping and Packing of Trophies
1X1 per Hunter - $ 6 570
2X1 per Hunter - $ 6 030
Per Observer - $ 2 325

Hunting Areas, Camps & Lodges
The hunting areas range in size form 3000 to 18000 acres and all provide an exceptional hunting experience. Our primary focus is on ensuring you take the trophies which are included in your safari and we make a determination of which camp to use based on current conditions prior to the starting date of your safari. Our success rate is very close to 100%.
In all cases the camps and lodges we use are luxury, with en suite bathrooms, electricity, stylish decoration and sumptuous food. Places a lady would feel at home and comfortable. Each of the camps and lodges we use feature on our web site in the areas and camps section. We can provide an extensive list of references in your area who have hunted with us and who can bear testament to the quality of accommodation.

Hunters: A typical hunting day would start just before dawn at which time coffee and rusks are enjoyed. A selection of breakfast cereals, yogurt and juice is also available at this time. We then embark on the morning hunt. We would normally hunt until about 11:00am at which time we would return to camp for brunch (A full meal which is a combination of breakfast and lunch). Some time is then devoted to relaxing in camp. The hunt is resumed at about 14:30 from which time we hunt until sunset.
The method of hunting employed depends on the preference of the client and can consist of either waking and stalking, hunting from blinds or special vantage points from which we glass and ambush animals. The option of hunting from one of our well equipped vehicles is also available should you have any medical problems, or are limited by not being able to walk long distances. Your Professional Hunter will discuss these options with you after arrival. All of these options are always available. It is not necessary to let us know which method you prefer prior to your arrival.
Observers: Observers are welcome to accompany the hunters on safari, alternatively they can relax in camp. Should the observers in your group be interested in visiting some of the highlights in the area while the hunters are in the field, this can be arranged at an additional charge of $ 80 per observer per day. The additional cost is incurred because we have to send a dedicated guide to take care of observers. On the typical safari observers normally prefer to accompany hunters which does not incur any additional charges.

Hunting Package Itinerary
DAY 1 ARRIVAL - BUSHVELD
Guests are met and welcomed upon arrival at O. R. Tambo International by their professional hunter or hunters, who will be holding a sign with your name on it as you enter the arrivals lounge. From here the safari travels to the hunting camp, which is located in the Bushveld. The afternoon is devoted to sighting of rifles and time permitting the first afternoon hunt.
Overnight: Bushveld Camps and Lodges
Meals: Full Board
DAY 2-5 HUNTING BUSHVELD
These days are devoted to hunting the Bushveld. The area is characterized by wooded savannah in varying degrees of density, ranging from densely wooded ravines to rolling hills and open savannah areas. This region supports a large diversity of mammal species and is generally regarded as one of South Africa's finest hunting areas.
Species which are available in the Limpopo Bushveld area include:
Blesbok (Common), Blesbok (White), Blue Wildebeest, Buffalo, Bush Pig, Bushbuck, Common Reedbuck, Eland, Elephant, Gemsbok, Giraffe, Grey Duiker, Hippopotamus, Impala, Jackal, Klipspringer, Kudu, Leopard, Lion, Nyala, Ostrich, Red Hartebeest, Roan Antelope, Sable Antelope, Steenbok, Tsessebe, Warthog, Waterbuck, White Rhino, Zebra (Burchell's).
You are welcome to take trophies in addition to those included in your package, should the opportunity present itself. All dangerous game has to be pre-booked. Additional trophies are charged at list prices.
Overnight: Bushveld Camps and Lodges
Meals: Full Board
DAY 6 PRETORIA
The morning is devoted to hunting in the Limpopo Bushveld before traveling to Pretoria during the afternoon where clients will spend the evening at the Lombardy Estate.
Overnight: Lombardy
Meals: Full Board
DAY 7 KRUGER NATIONAL PARK
From Pretoria the safari travels east crossing the escarpment, which forms the barrier between South Africa's inland plateau and the lower lying coastal plains. After passing through the town of Nelspruit, the economic hub of South Africa's Lowveld, the forested hills gradually give way to African bushveld, as the safari reaches the Kruger National Park. The Park is 22 000 square kilometers in extent and is revered to, as the most important conservation area in South Africa. The Kruger Park is one of the three most visited national parks on the African continent. The late afternoon is devoted to a first Kruger Park Safari.
Overnight: Kruger National Park Camps
Meals: Full Board
DAY 8 KRUGER NATIONAL PARK
The day is devoted to two safaris in search of Africa's legendary 'Big 5'. Your experienced guide whose intimate knowledge of the habits and behavior of the different animals is sure to add to the enjoyment of the experience. There are sixteen different eco-zones in the Kruger National Park, each one characterized by specific vegetation, geology, soils, rainfall, and temperature. The different eco-zones influence the distribution of various mammal species, with each species favoring a certain type of habitat.
Overnight: Kruger National Park Camps
Meals: Full Board
DAY 9 KRUGER NATIONAL PARK
Your experienced guide conducts a morning safari. He or she will check the previous days' sightings, which were logged by various groups, as this will increase your chances of seeing a pride of lion on a recent kill or viewing the imposing white rhino or wild dog. During the late afternoon guests embark on a night safari with a Kruger Park ranger.
The night safari makes possible sightings of creatures like the Genet, Serval and Aardvark, which are rarely seen during the day. The large predators are typically nocturnal hunters and are also more likely to be spotted at night.
Overnight: Kruger National Park Camps
Meals: Full Board
DAY 10 DEPARTURE
A last morning spent in the Kruger National Park is followed by a journey to Pretoria and the African Sky office. Some time is devoted to paperwork and is followed by a late lunch, after which guests are transferred to the airport where a memorable African Safari ends.
Overnight: None
Meals: Breakfast and Lunch

Like a human fingerprint, no two zebra share exactly the same pattern in their stripes. This ensures that your trophy will always be unique and the only one of it's kind ever taken in Africa.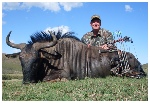 The blue wildebeest is one of the most common plains game animals found in the northern part of South Africa. It occurs in relatively large herds. Blue wildebeest favor wooded savannah.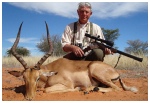 Impala occur in large numbers throughout South Africa. They are the most common of the antelope species found in the country. Most hunters leave South Africa with at least one impala in the bag.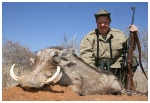 Warthog are commonly found throughout large parts of South Africa. They are tough and resilient animals that should ideally be hunted with a .30 caliber rifle. Your warthog trophy is sure to draw attention.