Sun City is internationally renowned as Africa's premier holiday resort, offering a myriad of different entertainment and relaxation opportunities as well as enough attractions and activities to keep everyone busy.
The fabulous SunCity resort complex captivates visitors with its combination of golf, game-viewing and gambling as well as world-class hotels. Formerly the gambling mecca of South Africa, Suncity still attracts those who wish to gamble but also those who want to relax.
Sun City in South Africa offers everything and more and it has become a haven for holidaymakers to South Africa.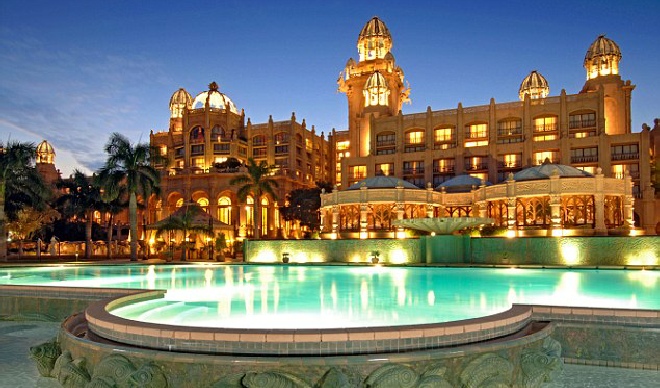 SA Attractions - Sun City


Top Link SA Travel and Consulting
Email : info@toplink.co.za

Adjoining Sun City Resort, is the beautiful Pilanesberg Game Reserve, which will delight game viewers as it is a malaria free zone and home to the Big 5.
The Valley of Waves, which links The Palace of the Lost City Hotel to the Entertainment Centre at Sun City, incorporates 22 different regions of vegetation, from a rocky outcrop of ancient baoba trees, to a lush, tropical jungle.
Walkers are enticed to the Waterscape, a huge arrangement of interlinked pools, a kilometre of low weirs and two kilometres of walkways, that lead through gardens and over, and under, rock formations. Among the Waterscape's permanent residents are swans, herons, and the rare South African black duck.
Sun City Resort has its own 25 Hectare jungle of 3 500 trees, drawn from around the worl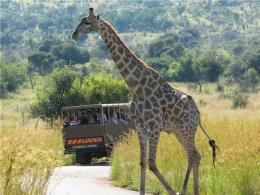 d, plus a 100 x 60 m swimming pool and 'beach', with 1,8 m high artificially created surfing waves. Among other features are massive water chutes for the brave, and a Lazy River Ride for the young and not-so-brave.
The Entertainment Centre is a vibrant concentration of restaurants, bars, discos, speciality shops, conference venues, cinemas, slot machines and a massive 200 seat computerised bingo hall.
In its core is the Superbowl, used for conventions, banquets (seating 3 500 people), extravagant promotions, big-name shows and international events. The Casino offers the standard gaming range plus slot macines, a salon prive (punto banco and chemmy) for devotees, and the 620-seat Extravaganza Theatre.
Outdoor activities at Sun City Resort include tennis, bowls, squash, horse-riding, swimming, tenpin bowling, an animal farm for children and game viewing at Pilanesberg Game Reserve.
The Gary Player Country Club boasts 2 top world-class golf courses and has hosted most of the world's greatest players. It is the venue for the annual Million Dollar Golf Challenge.
The Kwena Crocodile Garden at the entrance gate, is a reptile park and ranch distinguished by its dramatically 'ethnic' architecture, its luxuriantly tropical surround, and by the giant Nile crocodiles it contains, including 'Footloose', a 120-year old crocodile weighing 800 kg.

Activities and Entertainment at Sun City

Sun City's Valley of Waves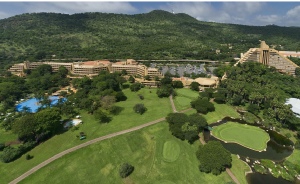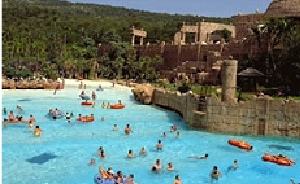 Sun City Children's Activities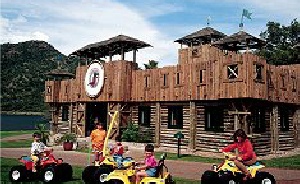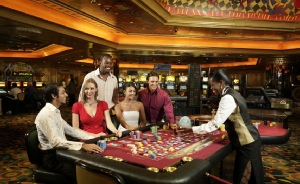 SunCity, South Africa, is one of the country's premier golfing destinations.
There is ample entertainment and facilities to suit any visitor to Suncity!
SunCity South Africa has a range of exciting activities - ideal for families.
Sun City, South Africa's premier holiday resort, offers 2 casino areas open daily.